Keith Olbermann's Special Comment on October 7, 2009: Part 1 of 4:
Part 2 of 4:
Part 3 of 4:
Part 4 of 4:
Whip it!
Come one, Come all
Down to the hall
Were gonna make noise
Were gonna bust balls
Were gonna disrupt
Were gonna jump in the fray
I got a list of all the things that were supposed to say
Were gonna get real rowdy
Have a barrel of fun
But were the USA so by the way be sure to bring a gun
And buddy
Were Number 37
Were the USA
Were Number 37
And were so proud to say
We got old people crying at the pharmacy
Pay your deductible
This aint the land of the f-f-f-free Grandma
Were Number 37
Were the USA
People of the town come on down
And if you got a crazy rumor you can spread it around
I kind of like my insurance and I like my health
The other 47 million can go treat themselves
To some prayer in chapel
Fold your hands and pray
Because we are a Christian nation and that is the Christian way
And brother
Were Number 37
Were the USA
The big Number 37
And were so proud to say
Were #1 one in tanks
Were #1 in planes
Were #1 in war with #2 for brains
Were Number 37
Were the USA
I drew a Hitler mustache on the president
Yea! Aint that neat
My brother had a hernia operation last year
And now hes living out on the street
Were Number 37
Were the USA
The big Number 37
And we want to keep it that way
Be sure to bring the kids
All of the boys and girls
Because the #1 health care system in the world.
Is inFrance???
Were Number 37
Were the USA
Were Number 37
And we got something to say
We pay more for less
40% in fact
Lets bite some fingers off
Shout at the handicapped
Cause buddy
Were Number 37
Were the USA
Were Number 37
Were the USA
Were Number 37
Were the USA
Health insurance companies are in the business of taking in premium payments and paying out a little as possible for health care. That is the way they make profits and satisfy their shareholders and Wall Street.
In 2006, attorney Jody Neal-Post tried to get health insurance but was rejected because of treatment — counseling and Valium — she received following a domestic-abuse incident. She says the insurer told her that her medical history made her a high risk, more likely to end up in the emergency room or require additional care.
"While the majority of states have barred insurance companies from using abuse as grounds for denying coverage, eight states and the District of Columbia don't prohibit denying coverage for that reason."
[Source: MSNBC]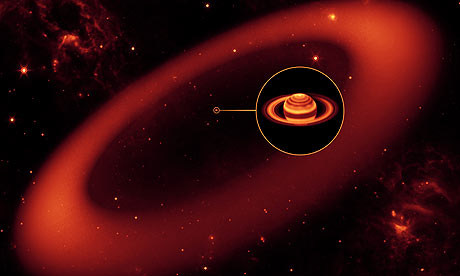 A never-before-seen "supersized" ring around the planet Saturn has been discovered. The infrared Spitzer space telescope was able to detect it.
The ring dust is very cold – minus 316 degrees Fahrenheit – it shines with thermal radiation.
The bulk of the ring material starts about 3.7 million miles from the planet and extends outward about another 7.4 million miles.
The newly found ring is so huge it would take 1 billion Earths to fill it, JPL said.
Just imagine that—1 billion Earths to fill the ring. Makes us pretty insignificant, doesn't it?
[Sources: Guardian, Huffington Post, Nature Journal]
A Saudi court on Wednesday sentenced a man who caused uproar by bragging about his sex life on television to five years in prison and 1,000 lashes, according to Ministry of Information officials.
Mazen Abdul Jawad, a 32-year-old airline employee and divorced father of four, spoke openly about his sexual escapades, his love of sex and losing his virginity at age 14. He made the comments on Lebanese Broadcasting Corporation, which aired the interview a few months ago.
"The episode caused an uproar in deeply conservative Saudi Arabia, where sharia, or Islamic law, is practiced. Pre-marital sex is illegal, and unrelated men and women are not permitted to mingle."
It is peculiar how different cultures view and handle sexual matters. Makes one wonder how the population of the United States would fare under sharia and Islamic law?
[Source: CNN]